Children of Haiti Project (COHP) School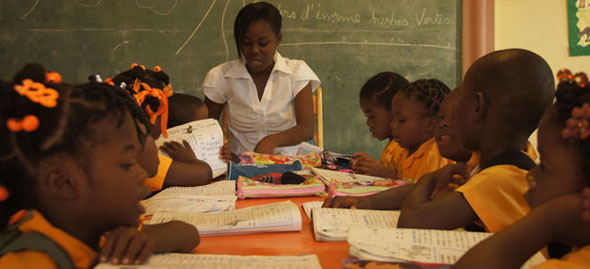 Our partner school in Haiti
A Kenbe La partner project, the COHP school is an oasis of hope in an area of extreme poverty. On a daily basis, it provides education, meals and medical treatment to around 87 children aged 5-14 from the adjacent tent camp.
Established just weeks after the earthquake, the school provides learning opportunities to children with limited or no access to formal education.
It is a buzz of activity. The environment is cheerful, stimulating and clean and it is clear that the children are being nurtured intellectually, socially and physically. It's hard to imagine that at night these children return to the tent camp to sleep.
At Kenbe La Foundation it is our responsibility to ensure that your donations are spent effectively and ethically, and we are in no doubt that our partnership with the COHP school is money very well spent. Your support is already ensuring a brighter future for these young Haitians.
If you would like to donate as a one-off gift or regularly, please visit our DONATIONS PAGE. Or join our mailing list to keep up to date.
For more information on our partnership with COHP go to: http://childrenofhaitiproject.org
---
New classrooms for Henri Christophe School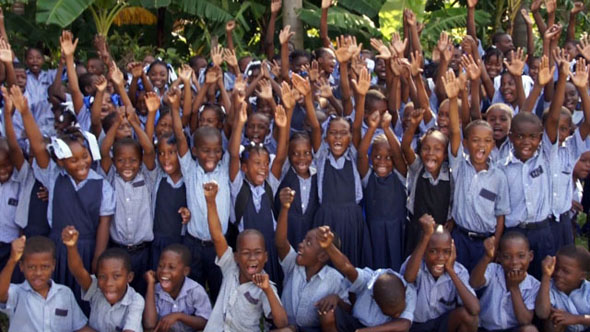 Kenbe La Foundation delivers on promise
Darbonne Community is the site of the Henri Christophe School, where Kenbe La installed a new three-classroom school building.
An investment in infrastructure, the prefabricated building was donated by a New Zealand company and shipped over in containers to this earthquake damaged school. With the help of local expertise and a four-person NZ volunteer team, the building has been substantially adapted to withstand the extremes of weather in that location and configured to accommodate three new classrooms.
There are currently 120 pupils at the school, and having the extra space will help provide an education to a further 80 children. The value of this cannot be over-estimated!
Community leaders in Darbonne have asked us to pass on to all donors and supporters their deep appreciation and gratitude for this gift to their children.
See and share the building photo journal HERE.
---
Shipping containers of aid
Three 20ft containers of community supplies from NZ
In direct response to the 2010 earthquake, over $100,000 of medical, educational and occupational goods, including the three-classroom prefab building, was donated by New Zealanders and shipped to Haiti in three 20-foot containers.
The goods arrived in pristine condition and has been successfully delivered and distributed to local communities.
A Kenbe La Foundation team was on hand to open the containers and personally oversaw delivery of the medical supplies to the St Croix Hospital in Leogane and the University Hospital in Port au Prince.
Two small-truck loads of school supplies and community goods were delivered to the COHP school in Port au Prince, and the remainder of the school supplies went to the Henri Christophe School in Darbonne.
The shipment also contained large quantities of childrens' and adults' clothing, footwear, hygiene supplies, gardening and general tools and occupational equipment, which is being distributed by a local community committee who understand the situation and needs of individual families on a household-by-household basis. We receive regular reports and photos of the process.
---
Tom Gato School, Leogane

Kenbe La Foundation's first project in 2010 was the destroyed 'Source of Hope' School, in Tom Gato, Leogane. The Foundation provided and facilitated direct support with educational resources, clothes, toys, food, seeds for crops, sleeping mats, tarpaulins, 300+ ShelterBox tents for school and community use, plus teacher and administrator salaries for three months.
Following this initial period of emergency, two other organizations – Tearfund UK and the Digicel Foundation – arrived in the Tom Gato community and were able to take the school under their wing. Kenbe La donated $5,000 to Tearfund to support the ongoing work at the school, then continued to look for another school in need of rebuilding in the Leogane region – the Henri Christophe School.
---
New uniforms at COHP School

Thanks to our partnership with Boston based charity Tailored for Education (TFE), the children at the COHP school received new school uniforms. Founded in 2011, TFE strives to increase school enrolment in developing countries by providing children with school uniforms. Many families cannot afford the cost of a uniform, so don't send their children to school. The new uniforms were made in Haiti which supported the local economy and enabled us to track their progress with the factory. The COHP students are really proud of their uniforms – thanks TFE!
---
Thankyou
The gift of education is the opportunity for individual children to move beyond mere day to day existence in deprivation, to a life of fulfillment. That is a gift of immeasurable value.
Thank you again for your support.
---
Get involved – this is just the beginning
Donate HERE to support the continued work of Kenbe La Foundation in Haiti.
Your contribution will help ensure a brighter future for children in Haiti.